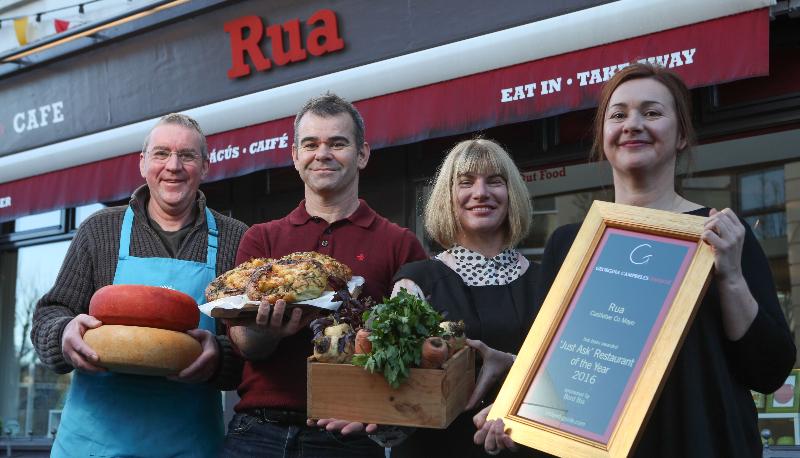 RUA Deli, Bakery & Cafe, Castlebar, has been awarded the Bord Bia Just Ask Restaurant of the Year 2016 title, beating off tough competition from many top establishments across the country.
The original Café Rua and family business was established 1995 by Ann McMahon on New Antrim Street. This hugely popular café is now run by Ann's children, Aran and Colleen, and in 2007 they opended Rua, a second location on Spencer Street, which also includes a delicatessen and bakery.
The business has continued with Ann's original philosophy of serving 'uncomplicated food using seasonal and local ingredients' and has become a major destination for food aficionados from the west and all over Ireland.
With their menu and deli consistently featuring local meats, cheeses, jams, chutneys and vegetables, they were selected as national winners for the 2016 Bord Bia Just Ask initiative.
The Bord Bia Just Ask campaign, now in its seventh year, encourages restaurants to promote local produce to encourage transparency between customers and suppliers.
Commenting on the restaurant's sourcing, Aran McMahon said: "We use numerous blackboards to announce various dishes of the day and afford respect to proudly named suppliers. Our meat suppliers include Sean Kelly of Newport, De Burca's Butchers and Pat Carolan of Castlebar, Roscommon's Castlemine Farm and our free-range pork is supplied by Andarl Farm in Claremorris. Irish chicken is supplied by the Friendly Farmer in Athenry and Shannonvale Foods in Clonakilty, and we source our fish from six different seafood providers on the west coast.
"Local herbs and vegetables are supplied by our local rural training scheme, Stephen Gould in Headford, Lavin's of Castlebar and seasonally from our own polytunnel."
Renowned food writer Georgina Campbell works with Bord Bia to select the Just Ask Restaurant of the Month and annual winner, and was particularly impressed by Rua's commitment not only in promoting local produce but also customer service.
"The lunchtime queue on the stairs has become legendary, yet they somehow manage to deal with it swiftly and charmingly, and before you know it you're comfortably seated and contemplating difficult choices," commented Georgina. "If you are wondering where a template for the way to promote the best of local food might be found, look no further – Rua would be the perfect place to start."
To coincide with the announcement, Bord Bia also revealed new research confirming that Irish people are now hugely supportive of local foods, with over three-quarters (76%) of respondents saying they would be more inclined to visit a restaurant which actively promotes and serves local produce, and 67% citing that they would choose a dish containing local produce over imported food when dining out. Furthermore, 88% would like to see local suppliers listed on a menu when dining out.
– See more at: http://www.con-telegraph.ie/news/roundup/articles/2016/01/15/4112722-rua-named-just-ask-restaurant-of-the-year/#sthash.tMdm1c3B.dpuf