COOKERY DEMO – The Mayo Ingredient
TWO DATES – Tuesday 13th June, 7:30 pm – OR – Wednesday 14th June, 7:30 pm

Our latest Cookery Demo draws it's inspiration from the county's larder. We'll be putting recipes built on the work of wonderful local producers …
buttermilk puddings from Cuinneog Dairy Farmm, a slow cooked onion focaccia style bread using Carrowholly cheese, Achill Island Sea Salted Caramel Brownies, as well as a variety of dishes incorporating ideas for breakfast, main meals and desserts.
From other local artisans like Wild Wood Vinegars, Bean West Coffee, Andarl Farm Free-Range Pork Producers, Kelly's of Newport and much more. Each night will also feature a 'Meet the Maker' visit from one of our featured producers.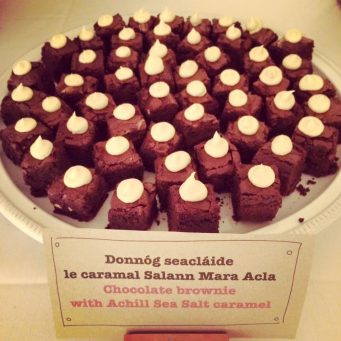 We are delighted to host these two cookery demos in conjunction with 'The Gourmet Greenway'. As always, the evening includes supper, a glass of wine and notes from the demonstration. Limited tickets priced at €30 still available by calling our Delicatessen on 094 9286072.