Great fruit for a great Cake…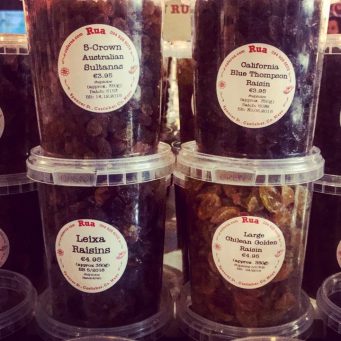 This time of year, our Delicatessen is brimming with a selection of Christmas dried fruit. Imported from around the world by Peter Ward's Country Choice store, we're currently stocking organic Californian raisins, Australian 5 crown sultanas, Italian amarena cherries and other exceptionally good quality fruit for giving your Christmas cakes, plum puddings and mince pies extra luxurious flavour. If you're going to put the time aside to do your own Christmas baking, it's worth getting your hands on some great quality fruit.
Here's a recipe for a simple, but really delicious Christmas Cake.  Please call us on 094 9286072 or mail us to caferuadeli@caferua.com  at the delicatessen if you have any specific questions on our stock of fruit.
Recipe         
– 8 oz butter
– 8 oz soft brown sugar
– 4 eggs
– 10 oz flour
– 1 1/2 lbs of dried fruit
(Use a mix of Leixa raisins, 5 Crown Sultanas, Chilean golden raisins and soak in few tablespoons of brandy for 24hrs)
– 3 oz Chopped almonds
– 3 oz chopped peel
– 1 oz cherries
Method 

– 9" tin lined with baking parchment and a paper collar on outside of tin, and preheat oven to 150 C
– Cream butter and sugar
– Add eggs slowly
– Add flour
– Add fruit and nuts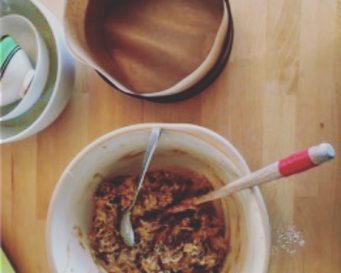 TIP:  
– Contents into tin and bake at 150* for 1 hour turn heat down to 140* for 2-21/2 hours
– Allow to cool, and keep in air tight container.
– Add a little brandy weekly to help cake mature, and wrap cake in both parchment and cling film after each 'dosing' ('brandy wrap').
– Your cake should be ready and delicious to eat after 3 weeks (and if you can stretch it to 5 weeks, even better).