Our Gift and Food Guide for Nollaig 2020 is now available. You can download it from here or we've got printed copies at both Rua Delicatessen on Spencer Street and Cafe Rua on New Antrim Street.
Our Christmas Food can now be pre-ordered online.
We're asking everyone to do this for any food collections for the 3 days in the run-up to Christmas, so that's :
Tuesday 22nd
Wednesday 23rd
Thursday 24th December
We're using a great new Irish website called Click & Collection to help facilitate this process. The site features all our Christmas essentials such as trifles, mince pies, roulades, red cabbage, pate, stuffing and much more. If you need to order food for collection on days before this (up to the 21st December)  you can just call us at Spencer Street on 094 9286072.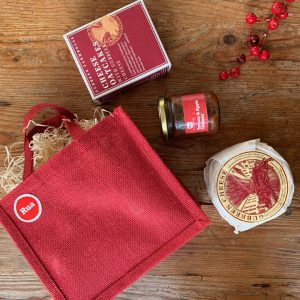 We've also got a selection of our Hampers and other gifts available for delivery in Ireland this year.
Our BOSCA NOLLAG for €50 is a perfect family gift box and is available to preorder and for shipping on three pre-selected dates in December.
Our BEST OF THE WEST HAMPER is available online this year. We've slightly amended the original and this version is without any perishable products. We can deliver it in Ireland – for €100 inclusive of delivery. Last day for shipping is 16th December.
As always, our GIFT VOUCHERS can also be bought online and we'll post it out for you.
We also have some other great gifts available for delivery such as our Rua Shopping bags and reusable water bottles. You can see everything available for delivery here.
For lots more HAMPERS we are also offering a click and collect service this year.
Click here, and choose your hamper – we'll have it ready for collection on your chosen date and time slot. If you don't see what you're looking for or want something particular,  you can always contact us on 094 9286072 and we'll put together something to order. We can generally have most hampers ready with 24 hours notice.
We've also converted our upstairs cafe on Spencer Street into a Hamper and Gift Shop and filled it with lots of ready to go hampers as well as many Irish made gifts.
The Hamper shop opens from Tuesday, December 1st and will be open from 9am – 5pm.
At the time of writing, the entire restaurant industry is awaiting instruction and guidelines from the government on reopening in December. We hope to be open and operating an eat-in service at the original Cafe Rua on New Antrim street once clarification comes. Our Cafe on Spencer Street will function as an extended Hamper and gift shop and pick up point in the run-up to Christmas, and we hope to reopen here as a seated cafe immediately after Christmas. Please stay tuned for news on our social media.
We appreciate you for considering us for your gifts this year. Many of our gifts such as our chopping boards, food products and 'Best of the West' hampers are made by ourselves or come from local suppliers.
Your purchase directly supports local employment.
Go raibh maith agaibh.