On an unseasonably warm October evening, we were privileged to host an evening event at Rua for our town's 'Wild Atlantic Words' literary festival. Now in its third year, the programme this year was another wonderfully eclectic mix of authors from a wide spectrum of literary interest including Mary Robinson, Pat Mc Cabe and local historian Ivor Hamrock.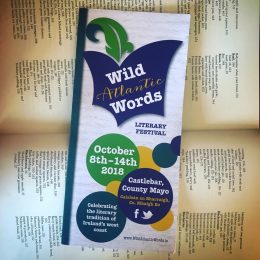 Our task at Rua was to add to the bill by inviting a recently published author, ideally based or hailing from the West coast of Ireland, and who would be able to entertain us with stories based on an expertise in matters of food or food history. To this end, we aimed high, and our first choice was to issue an invite to Margaret Hickey.  Based near Portumna, Margaret was a former editor of Country Living magazine, and also pursued a freelance writing career, contributing articles on food, drink and travel to most of the British national press, including The Financial Times, The Guardian and The Times.
Our shop had recently got hold of her most recent work 'Ireland's Green Larder' and we had been enthusiastically promoting it to anyone with a passing interest in Irish food. Described as 'A glorious ramble down the centuries telling the story of food and drink in Ireland', the book is filled with wonderful stories and gems of information about our nation and its relationship with food and drink through the centuries.
We were delighted when Margaret graciously accepted our invite and came to see us at Rua on the Wednesday evening of the festival. Once the crowd gathered just after 7pm in the upstairs café on Spencer Street, Margaret wasted no time in launching into a catalogue of stories from the pages of her book, featuring information on how the Irish monks taught the French how to make cheese, and how our food story  began in Mayo's Ceide Fields, established 1000 years before the Pyramids were built. There were also lots of questions from the interested attendees and debate ensured on our nation's checkered history with eating fish and current appetite for offal.
It was a great evening, and we are very grateful to the Wild Atlantic Words committee for inclusion in the festival, and, of course, to Margaret for coming to speak and entertain us at Rua.
Read more about Margaret on the links below:
https://www.irishtimes.com/culture/books/a-crowdfunded-history-of-irish-cooking-1.2913265